MCES News
MCES And Tony Salvatore Honored For Suicide Prevention Efforts
Monday, May 4, 2015
On May 1, Director of Development and Suicide Prevention Tony Salvatore accepted the Greater Philadelphia Chapter of the American Foundation for Suicide Prevention's (AFSP) Community Impact Award on behalf of MCES.
The Greater Philadelphia's AFSP recognized Tony and MCES for their unflagging dedication to preventing suicide not only in Montgomery County but throughout the region through "a wide range of crisis intervention and emergency psychiatric services." The honor recognized that:
• MCES is one of the only area participants in the National Suicide Lifeline that is 24/7/365, and MCES has been a Lifeline member for over a year.
• Tony and MCES created a Law Enforcement Suicide Prevention Taskforce following three local police suicides in 2014.
• Tony and MCES created and distributed suicide prevention tool kits to first responders, high school counselors, family members, and, through a project with their Youth & Philanthropy Club, faculty members at the Owen J. Roberts Middle School.
• SEPTA and MCES partnered on a suicide prevention project that placed signs for the National Suicide Prevention Lifeline system-wide, along 450 miles of railway—the first suicide prevention initiative of this kind in the area.
This is just a small sampling of the suicide prevention initiatives that Tony and MCES are responsible for. The Community Impact Award, bestowed at the Greater Philadelphia Chapter of the AFSP's 7th Annual "Party with a Purpose" held at the home of Dr. Dwight Evans, Chair of the Department of Psychiatry and Psychiatrist-in-Chief at the University of Pennsylvania Medical Center, is a fitting acknowledgement of the hard work and dedication that goes into preventing suicide.
"The recognition is nice, but I appreciate more the ongoing support of MCES's suicide prevention activities by the American Foundation for Suicide Prevention over many years," said Tony.
Tony was also honored by Moving Agencies Toward Excellence (MAX Association) in March with its "Service Excellence Award for Outstanding Services."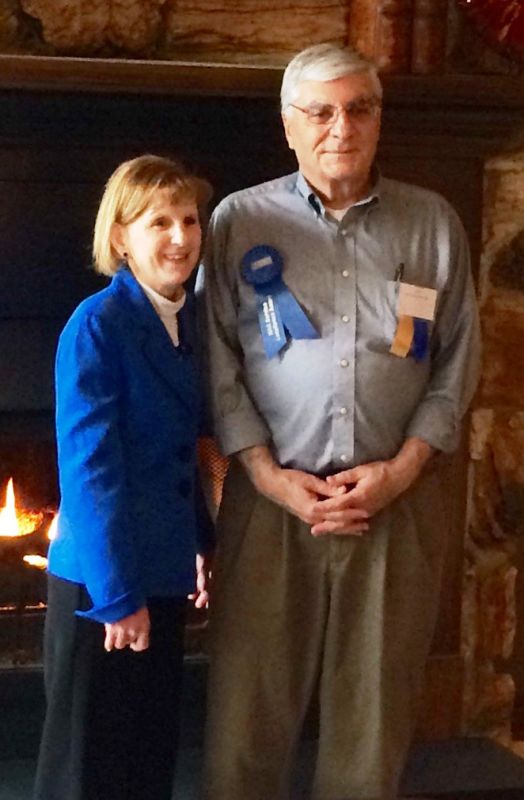 ---
Lower Merion Police Honored With NAMI Criminal Justice Award
Tuesday, May 19, 2015
NAMI-Montgomery County recently presented the Lower Merion Police Department with its Criminal Justice Award for its dedication to persons facing mental health challenges and their families
The Department achieved this distinction by committing to making mental health training and education for its officers a priority. Every Lower Merion police officer attends Crisis Intervention Specialist (CIS) training at MCES. LMPD Officer Matthew Freind was featured in an Associated Press story in 2014 that explored the benefits of training police officers in crisis intervention.
MCES's CIS program is the oldest crisis intervention training for police officers in the nation. CIS training is a comprehensive program that teaches officers how to identify and communicate with someone who may be experiencing a psychiatric emergency or behavioral health crisis, and offers options for diversion. The training also involves innovations such as a "hearing voices simulation" to provide officers with a better understanding of what a person who is experiencing auditory hallucinations is going through and how difficult it is for that individual to listen or follow commands.
---
MCES Walks To Support Mental Health
Tuesday, May 19, 2015
Donned in their finest tie-dye apparel, MCES staff (and assorted toddlers), showed up on May 16 at the 13th Annual NAMI Walk. Staff members from Nursing, Medical staff, Administration, Crisis Residential, Allied Therapy, and Justice Related Services were on-hand to show their support for NAMI and for the individuals whom they serve, day in and day out.
MCES's Team Captain Crisis Residential Program Director Dawn Yavuz said that the NAMI Walk was "an opportunity to spend time with co-workers giving support for families of and people affected by mental illness."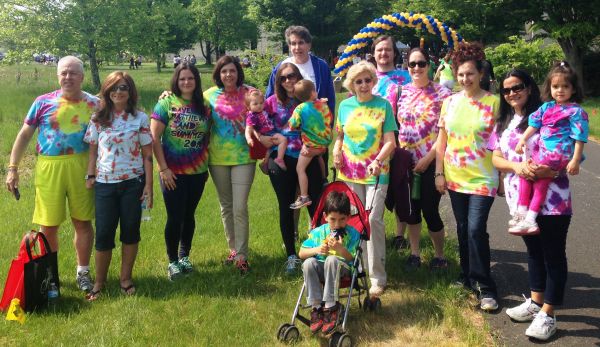 ---
MCES Seeks Input For Strategic Plan
Friday, April 24, 2015
MCES is in the process of developing a Strategic Plan that will help guide the future of the organization.
Your thoughts, feelings, and opinions are valuable and will be considered throughout the development of this plan. Please take a moment to thoughtfully respond to the survey you feel best represents you. A similar survey has been sent out to all MCES staff members for their feedback.
Thank you.
Patients, Family Members, Visitors
---
A Note From A Patient
Wednesday, April 8, 2015
Dear MCES Staff:

I thank all the staff for helping to guide me on a much better path. This path has a future to it. The nurses, psych techs, and group leaders have given me tools to move onwards with my life outside this facility. From coping skills to defining more core issue(s), I have learned a lot. I appreciate the staff members who took the time to either just listen or do more.

Despite coming here came from a bad experience, a positive outcome is on the horizon. These skills learned, I plan to pass down and help others [as] best I can. But I really appreciate the support from here: staff and peers alike. So thank you, MCES staff.

Sincerely,

R. H.
---
Visiting Nurse Program Enters Second Year
Tuesday, May 26, 2015
The MCES Community Continuity-of-Care Registered Nurse Program, a visiting nurse program where MCES's psychiatric RNs go out into the community to provide care following inpatient discharge, is beginning its second year.
Three additional RNs will be added to the roster of nurses who are making home visits and MCES is adding a new component to the program: cellphones. Life has become difficult to navigate without a cellphone, yet, for some patients who are hospitalized at MCES, that is their reality.
MCES is distributing pre-paid Trac-Fones to patients enrolled in the MCES CCOC-RN Program who do not have access to a cellphone or a landline. These phones will enable MCES RNs to maintain telephone contact with the patients on their caseload, conduct telephone follow-up calls and schedule visits. Patients participating in the MCES CCOC-RN Program will also receive automatic voice alerts to remind them to take their medications, in the hope that this will increase medication adherence and decrease recidivism.
The MCES CCOC-RN Program is funded through grants from the Dr. H. Glenn Sample, Jr. Memorial Foundation through PNC Charitable Trust, and the van Ameringen Foundation.
---
Join The MCES Team
Wednesday, April 1, 2015
MCES is looking to fill the following positions. Come be part of the MCES team.
Part-Time Evening and Weekend Psychiatric Techs
Qualifications: Bachelor's degree in an area of Human Services (Psychology, Sociology, Counseling, Criminal Justice, etc.) from an accredited college or university plus a minimum of 1 year of mental health direct care experience OR an Associate's Degree in an area of Human Services with twelve (12) semester Behavioral Health college credit hours plus two years of mental health direct care experience in the field; OR a High school diploma or equivalency plus twelve (12) semester Behavioral Health college credit hours plus three years of mental health direct care experience in the field or any combination of experience, education or training that would provide the level of knowledge, skill, and ability required. Other experience or education may be required by the credentialing body where appropriate.
Part-Time Environmental Services
Environmental Services Qualifications: High school diploma or equivalency (GED) and some related experience or any combination of experience, education, or training that would provide the level of knowledge, skill, and ability required.
Part-Time Ambulance Transport
Ambulance Qualifications: High school diploma or equivalency (GED) and a minimum of (1) one year of emergency or transport experience required. Successful applicants must have the ability to properly use the Montgomery County Telecommunication System.
For immediate consideration for any of the positions, please submit a resume to Sharon Bieber. Click here to email Sharon.
MCES is an EO Employer M/F/VETERAN/DISABLED
---