MCES News
Most Suicides Occur Outside Holidays
Friday, December 30, 2016
It is popularly believed that most suicides take place during December. National suicide statistics have shown this to be a myth. Despite efforts, including a report from the Annenberg Public Policy Center, to correct it, this misperception persists in media accounts every year at this time.
Montgomery County data on suicides for all age groups for the years 2008-2015 show that most such deaths occurred in June and July and to a lesser extent in April and October, with December being a month with fewer suicides. County data on suicides among those under 20 years of age in 2008-2015 show youth suicides peaked in September and October and that there were far fewer suicides involving young people in November and December than in autumn months.
While suicides do not increase at this time of year the same cannot be said for suicidal behavior. Calls and referrals to the MCES Crisis Center involving suicidal ideation, suicide threats, and attempts remain heavy at this time of year.
---
MCES Adds CFO
Friday, December 30, 2016
Wendy Wait joined the MCES administrative staff in September in the newly created post of Chief Financial Officer (CFO). Wendy came to MCES from Holcomb Behavioral Health.
"Wendy's strong expertise and experience in behavioral health financial management will greatly strengthen MCES's capability in planning, analysis, and planning," said CEO Bill Myers.
---
Welcome Nurse Added To Crisis Center
Tuesday, December 27, 2016
In response to changing patterns of behavioral health and medical acuity in those seeking help or brought to MCES for help, nurses have joined the Crisis Department staff.
The nurses will greet those arriving for service, assess clients for medical conditions needing immediate attention, complete vital signs, drug screens, pain assessments, pregnancy and diabetes tests, and EKGs. The Welcome Nurse will convey this information, as applicable to the MCES Crisis Psychiatrist, initiate an individualized treatment plan and facilitate the admission process for those found in need of inpatient care.
"We did a trial run for a few weeks and found having a psychiatric nurse in our Crisis Center to be invaluable," said Julie Peticca, MCES Crisis Department director. "The nurses were well-received by both the clients and family members."
---
NAMI Volunteers Assist At Mental Health Court
Friday, November 11, 2016
For about two months, six volunteers from NAMI (National Alliance for the Mentally Ill) Montgomery County have been on-site at MCES. Their role is to assist and support family members and others attending the Mental Health Court as petitioners who filed a request for an involuntary psychiatric evaluation (known as a "302") on individuals felt to present a danger to themselves or others and could not or would not accept help. The hearings assure that the individual's rights have been respected and determine if on-going court-ordered treatment is indicated.
Most petitioners are family members of the patients who are involuntarily admitted to MCES through the 302 process. All struggled with the decision to take this step and have many questions about it and what they can do to help their relative or friend after the involuntary phase of treatment is completed. MCES staff and the Montgomery County Commitment Office Delegates give much information.
The NAMI volunteers, all of whom have family members with serious mental illness and some of whom have been petitioners, bring a valuable peer perspective to the discussions. In addition, the NAMI representatives introduce those coming to the hearings to educational and support resources available to help families understand and cope with serious mental illness.
---
MCES Partners with Rocky Mountain MIRECC on A.C.E. Brochure
Saturday, October 29, 2016
In 2011, MCES issued the "ACE" (Ask, Care, Engage) card succinctly stating how to help someone who might be suicidal. The card was adapted from a similar resource used by the Veterans Administration (VA). MCES has now adapted another VA suicide prevention resource for general community use.
Last spring, MCES began working with the Rocky Mountain MIRECC (Mental Illness Research Education and Clinical Center) for VA Suicide Prevention, Denver, CO to make practical suicide prevention information more available. The first product is a new trifold based on the ACE Card. MCES is now working with the Rocky Mountain MIRECC on a version of the ACE trifold based on the National Suicide Prevention Lifeline that will be made available nation-wide.
---
Signs At SEPTA Stations Making A Difference
Thursday, November 3, 2016
On September 10, 2014, the first signs giving the National Suicide Prevention Lifeline (800-273-TALK) were posted at the Norristown Transportation Center suburban rail station. This was the product of a collaboration of SEPTA and MCES.
Since then more than 1000 signs have been placed at both SEPTA commuter rail and subway-surface trolley stations throughout the region. Other commuter rail carriers have followed SEPTA's lead.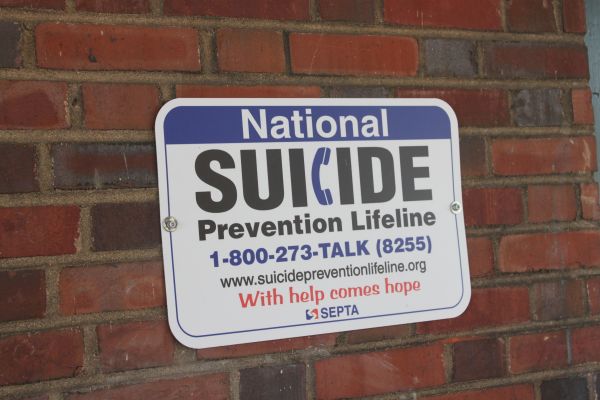 Over the last two years, the MCES Crisis Center has received calls on the Lifeline from suicidal people who saw the signs and called for help from the platform. MCES appreciates SEPTA's strong commitment to suicide prevention.
---
Bill Myers Named MCES CEO
Monday, July 11, 2016
MCES proudly announces that longtime executive Bill Myers has been named the organization's CEO.
Bill was most recently the chief operating officer for MCES. He held that position since 2010. He joined MCES in 1991 as a psychiatric technician.
"Not surprisingly, Bill rose to the top in our search process," said Board Chairman Pete Scattergood. "His dedication to MCES, leadership skills and knowledge of the mental health field are exactly what our organization needs."
Bill assumed his new role on July 1. He replaces Dr. Rocio Nell, who served MCES for more than 30 years.
"I thank the Board for the trust it has placed in me," said Bill. "MCES is a special organization that strives to make a difference in the lives of individuals and families when they most need support. I have been privileged to be part of that effort for 25 years and look forward to leading our talented staff as we continue our commitment to mental health."
Bill has held a variety of positions at MCES, including crisis intervention caseworker, assistant director of crisis intervention and director of business services. He holds a BS in Psychology and an MBA from Penn State. He lives in Lower Gwynedd with his wife and three sons.
Diversified Search assisted the MCES Board of Directors with the recruitment process.
---
New Medical Director Named
Friday, July 22, 2016
Deepraj Singh, MD, is the new Medical Director at MCES.
Dr. Singh joined MCES's medical staff in 2015. She is Board Certified in Adult Psychiatry by the American Board of Psychiatry and Neurology. At MCES, Dr. Singh performed both voluntary and involuntary psychiatric evaluations in the Crisis Center and provided psychiatric care to patients admitted to the Inpatient Unit.
Dr. Singh attended medical school at Albany Medical College and did her Residency at Drexel University. Prior to coming to MCES, she held positions at Fairmount Behavioral Health System and at Friends Hospital.
"Dr. Singh has been a versatile and valuable member of the MCES Medical Staff and I look forward to working with her to further enhance the quality of our clinical services," said MCES CEO Bill Myers.
---
MCES And Tony Salvatore Honored For Suicide Prevention Efforts
Monday, May 4, 2015
On May 1, Director of Development and Suicide Prevention Tony Salvatore accepted the Greater Philadelphia Chapter of the American Foundation for Suicide Prevention's (AFSP) Community Impact Award on behalf of MCES.
The Greater Philadelphia's AFSP recognized Tony and MCES for their unflagging dedication to preventing suicide not only in Montgomery County but throughout the region through "a wide range of crisis intervention and emergency psychiatric services." The honor recognized that:
• MCES is one of the only area participants in the National Suicide Lifeline that is 24/7/365, and MCES has been a Lifeline member for over a year.
• Tony and MCES created a Law Enforcement Suicide Prevention Taskforce following three local police suicides in 2014.
• Tony and MCES created and distributed suicide prevention tool kits to first responders, high school counselors, family members, and, through a project with their Youth & Philanthropy Club, faculty members at the Owen J. Roberts Middle School.
• SEPTA and MCES partnered on a suicide prevention project that placed signs for the National Suicide Prevention Lifeline system-wide, along 450 miles of railway—the first suicide prevention initiative of this kind in the area.
This is just a small sampling of the suicide prevention initiatives that Tony and MCES are responsible for. The Community Impact Award, bestowed at the Greater Philadelphia Chapter of the AFSP's 7th Annual "Party with a Purpose" held at the home of Dr. Dwight Evans, Chair of the Department of Psychiatry and Psychiatrist-in-Chief at the University of Pennsylvania Medical Center, is a fitting acknowledgement of the hard work and dedication that goes into preventing suicide.
"The recognition is nice, but I appreciate more the ongoing support of MCES's suicide prevention activities by the American Foundation for Suicide Prevention over many years," said Tony.
Tony was also honored by Moving Agencies Toward Excellence (MAX Association) in March with its "Service Excellence Award for Outstanding Services."
---
Join The MCES Team
Wednesday, April 1, 2015
MCES is looking to fill the following positions. Come be part of the MCES team.
Part-Time Evening and Weekend Psychiatric Techs
Qualifications: Bachelor's degree in an area of Human Services (Psychology, Sociology, Counseling, Criminal Justice, etc.) from an accredited college or university plus a minimum of 1 year of mental health direct care experience OR an Associate's Degree in an area of Human Services with twelve (12) semester Behavioral Health college credit hours plus two years of mental health direct care experience in the field; OR a High school diploma or equivalency plus twelve (12) semester Behavioral Health college credit hours plus three years of mental health direct care experience in the field or any combination of experience, education or training that would provide the level of knowledge, skill, and ability required. Other experience or education may be required by the credentialing body where appropriate.
Part-Time Environmental Services
Environmental Services Qualifications: High school diploma or equivalency (GED) and some related experience or any combination of experience, education, or training that would provide the level of knowledge, skill, and ability required.
Part-Time Ambulance Transport
Ambulance Qualifications: High school diploma or equivalency (GED) and a minimum of (1) one year of emergency or transport experience required. Successful applicants must have the ability to properly use the Montgomery County Telecommunication System.
For immediate consideration for any of the positions, please submit a resume to Sharon Bieber. Click here to email Sharon.
MCES is an EO Employer M/F/VETERAN/DISABLED
---