MCES News
MCES's Our Town A Success
Monday, January 5, 2015
By Gabriel Nathan
MCES Development Specialist and Our Town Stage director
Usually, when you start something, you have no idea how it's going to end. This is true with starting a family, or a project, or a business venture—and it's true when starting a creative venture, like a book or a painting, or a play.
When I had the idea to produce Thornton Wilder's Our Town at Building 33 on the Norristown State Hospital grounds with a comprised entirely of staff members from MCES, I had a picture in my mind of what I wanted the final product to look like, but I had no idea if it was actually going to turn out looking anything like what I saw in my mind. Turns out, what it turned out to be was infinitely better than what I saw in my mind, all those months ago when this was just a crazy idea in my head.
Those who were at MCES's production of Our Town know, and those who weren't quite simply will never know. Fortunately, approximately 600 people came out to see a little section of Norristown get transformed into Grover's Corners, New Hampshire. There, they saw crisis workers, case managers, social workers, psychiatric nurses and technicians and administrators become a country doctor, a bright young schoolgirl, a milkman, a newspaper editor, a newspaper delivery boy, a drunk choirmaster and many others. The performances were strong, as was the love that these performers have for one another, as is the bond that has been created through the beauty and power of this unforgettable play.
A woman remarked to me after one of the shows that, "These people are really brave for getting up there onstage—most of them with no performing experience at all—and doing this show." She's right, of course, but then, MCES staff members are brave every day. Our Town just gave them an opportunity to channel that bravery in a different way.
Through donations, concession sales, and raffle tickets for Dr. Nell's beautiful original oil painting of the Gibbs and Webb houses and gardens, MCES's Our Town earned $3,272.84 for the MCES Patient Fund. This money will be used to purchase goods that will directly benefit the patients, including holiday gifts for those who must be hospitalized during Christmas.
MCES is grateful to everyone who came out to see this show, to everyone who was in it, and to everyone who helped get it off the ground. MCES owes a particular debt of gratitude to the Thornton Wilder Estate and Samuel French, Inc., who waived all fees associated with obtaining the rights to produce Our Town, and to Buddy Clayman and the Clayman Family Foundation, for the financial support that allowed this production to take place.
Most of all, we are thankful for this glorious play, that has reminded us all that "there is something way down deep that's eternal about every human being." Our Town also reminds us that to look at one another, as though we really saw each other, is perhaps the bravest, and hardest thing that we can do in this life: and the most important.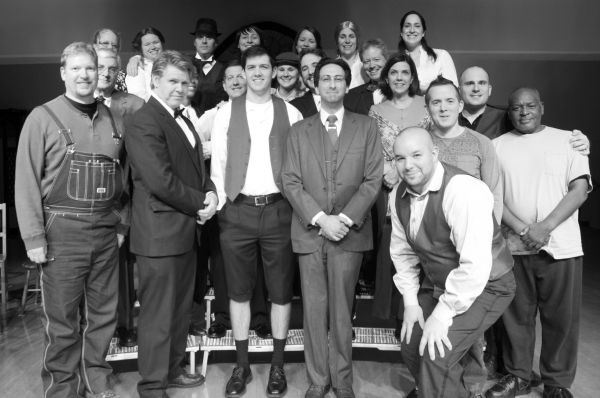 ---
Renowned Folk-Singer Bill Staines Entertains at MCES
Monday, January 5, 2015
On a recent Friday night, the MCES cafeteria looked and sounded more like a '60s coffee house as two excellent singer-songwriters strummed and picked their way through the night, singing inspirational and beautiful songs for patients and staff.
The evening began when concert coordinator and MCES Development Specialist Gabriel Nathan welcomed Nicole Zell to the stage. Zell warmly greeted the assembled patients and staff and played an emotionally-charged, personal 5-song set of music. Her lyrics told the story of her struggles with depression, and how she valiantly fights back with her music.
Nicole Zell lives in Chester County and, in addition to being an extraordinarily talented guitarist, songwriter and vocalist, she is a mental health advocate and a member of the Chester County Suicide Prevention Taskforce, lending her voice to raising awareness and education surrounding suicide prevention. This recent gig marks her second performance at MCES—she performed a successful solo concert on the inpatient unit in August and was very highly regarded by all in attendance.
Following Nicole Zell was folk-music legend Bill Staines. Staines and his well-weathered guitar have been telling the stories of America, its people, its animals (including porcupines who talk to themselves!) and its rivers for 40 years. Staines travels over 65,000 miles every year sharing his popular and memorable songs with thousands and thousands of delighted audience members. In between his classic songs such as "Spirit Song," "Crossing the Water," and "River," Staines amused the patients and staff with anecdotes about his life on the road and made meaningful connections with his attentive audience, some of whom sang along with his infectious choruses. After the concert, Staines and Zell signed concert flyers for grateful patients.
This concert was made possible by generous support from the Clayman Family Foundation, which has funded a year-long concert series at MCES.
---
Norristown Chorale Brings Christmas Cheer To MCES
Monday, January 5, 2015
On December 17th, 50 members of the Norristown Chorale came to MCES with one mission in mind: to let everyone know that Christmas was almost upon us. The title of their program, "Come On, It's Christmas!" said it all, and the exclamation point was well-earned as the full SATB choir packed into the MCES gym to spread joy and good tidings to all in attendance.
Click here to see a performance of "Let There Be Peace On Earth" 
The choir sang Christmas songs both religious and secular, and the composers spanned the globe—from America to Austria and beyond. There was a song for every taste at this concert, with tempi fast and slow. The gym was as uncommonly silent as the choir sang the soft, echoing notes of the beautiful piece "Still, Still, Still," the energy rose a rousing rendition of "Come On, It's Christmas!" and even humor was interjected with the piece "(Christmas is) No Time to Diet," complete with the entire choir donning neck-tucked napkins and the conductor using a gigantic wooden fork to direct the singers.
The Norristown Chorale was formed in 1976 and performs at venues all over the county and enjoys outreach work to hospitals, retirement facilities and community centers in Norristown and throughout Montgomery County. MCES was privileged to have such immense talent bringing the Christmas spirit to its patients and staff.
The concert by the Norristown Chorale was made possible by a grant from the Clayman Family Foundation, and is part of a year-long concert series at MCES. January will feature a concert by a soloist from Opera North, Inc., Pennsylvania's only African-American opera company.
---
MCES Assists The Hungry
Monday, January 5, 2015
Generosity, compassion, and service are words that are quite familiar to MCES staff members, who provide all of the aforementioned every day when they come into work. Around the holidays, however, the people who work at MCES are known for going the extra mile by providing food donations to support the Philabundance Hunger Relief Center.
The food drive, coordinated by MCES's Crisis Services Assistant Director Paul Butler, was a tremendous success this year, resulting in significantly greater donations than last year, with every department pitching in with donations for those less fortunate. MCES is grateful to Paul for coordinating the donations and doing the drop-off, and to every staff member who contributed something to the Food Drive. While the giving is done by individuals, the overwhelming generosity truly demonstrates the spirit of the whole of MCES.
---
Inquirer Features MCES Production of "Our Town"
Tuesday, December 2, 2014
MCES's production of "Our Town" was prominently featured in the November 30 Sunday Inquirer. 
Well Being: Mental-health coworkers share lessons from "Our Town"
by Art Carey
The name of our town is West Norriton, 40 degrees north latitude, 75 degrees west longitude. Population: about 16,000, give or take a few hundred. It's just across the border from Norristown, the Montgomery County seat. Down there, at the bottom of that sloping cornfield, is the hospital for those with urgent psychiatric troubles. Goes by the name of Montgomery County Emergency Service, MCES for short.
Our story begins last spring with a team-building staff retreat. Leading it is Gabriel Nathan, an enthusiastic young man with a theatrical background. He serves as a development specialist at MCES.
"Work can become so busy and chaotic that we don't have time to look at each other, to stop and really appreciate each other," he laments to his coworkers.
Click here to read the full story 
---