MCES News
The Joint Commission Recognizes MCES
Wednesday, November 27, 2013
The Joint Commission, which accredits and certifies more 20,000 health care organizations and programs in the United States, has designated MCES as a 2012 Top Performer on Key Quality Measures.
"The recognition by The Joint Commission is a result of the hard work and decision of the men and women at MCES," said CEO Dr. Rocio Nell.
Joint Commission accreditation and certification is recognized nationwide as a symbol of quality that reflects an organization's commitment to meeting certain performance standards.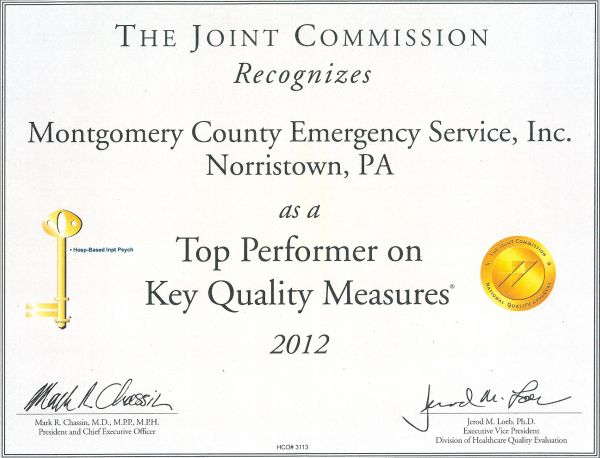 ---
MCES In The News
Monday, November 25, 2013
The MCES team is often sought out by media for stories. Here are some recent pieces.
---
MCES Applauds Release of Mental Health Parity Rules
Tuesday, November 12, 2013
November 8 may someday be known as "Mental Health Parity Day" in America. It was an auspicious occasion in the domain of mental health as the Obama administration spelled out that equal coverage for mental health and substance abuse treatment on most insurance plans will be the law of the land.

The announcement was made by Health and Human Services Secretary Kathleen Sebelius at the Rosalynn Carter Symposium on Mental Health Policy in Atlanta, Georgia. The Former First Lady has been a staunch advocate on behalf of mental health for decades, and was emotional during Secretary Sebelius's announcement.
Formerly, many insurance plans would pay a vastly greater percentage—sometimes as high as 80 percent-- of the costs for medical care but only 50 percent of mental health care claims. Those in need of inpatient mental health treatment often had fewer days covered by insurance than if they required inpatient treatment for a medical ailment. Individuals with mental health needs were being essentially penalized for attending to their psychiatric treatment needs.
Now, most insurance companies are required to provide equal coverage for physical and mental health, which many consumers, experts and advocates see as a big step forward in terms of reducing stigma and encouraging adherence to treatment, or seeking treatment for mental health in the first place.
The Mental Health Parity Law was actually passed in 2008, but it did not apply to people with smaller health plans. After the act was passed, psychiatric pre-authorizations for care were still required by some insurance companies, which is no longer permitted.
MCES Chief Operating Officer Bill Myers said, "This is a big victory, not just a tangible one, but a moral one. Why should people be put in a position where there are more barriers to seeking treatment for major depression than for a back injury?"
American Psychiatric Association President Jeffery Lieberman, MD issued a statement following the announcement saying that he looks forward to "a new chapter in mental health care that delivers on the promise of the parity law. APA will remain vigilant and continue working toward full equity for people with mental illnesses and substance use disorders."
---
MCES Supports "Drive Out Suicide" Campaign
Thursday, October 31, 2013
MCES is proudly participating in an innovative initiative to raise awareness for the National Suicide Prevention Lifeline. 
MCES was contacted by the Pennsylvania Adult/Older Adult Suicide Prevention Coalition about a program that they started where volunteers invested in suicide prevention place large window clings on the back of their cars featuring the Lifeline number.  Volunteers drive their cars during the course of their normal day and give out suicide prevention cards to anyone who approaches them to ask about the window cling.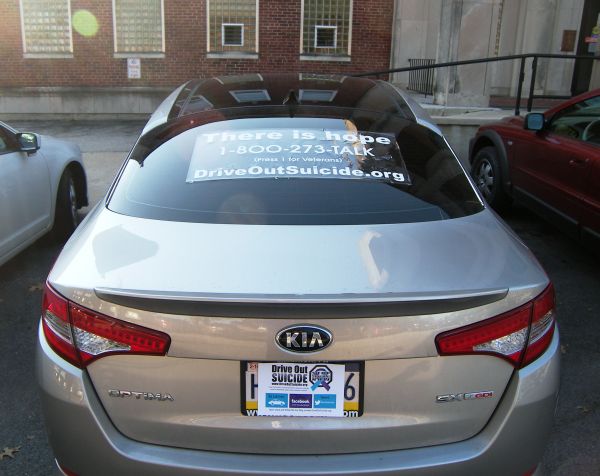 ---