MCES News
MCES Seeks Input For Strategic Plan
Friday, April 24, 2015
MCES is in the process of developing a Strategic Plan that will help guide the future of the organization.
Your thoughts, feelings, and opinions are valuable and will be considered throughout the development of this plan. Please take a moment to thoughtfully respond to the survey you feel best represents you. A similar survey has been sent out to all MCES staff members for their feedback.
Thank you.
Patients, Family Members, Visitors
---
A Note From A Patient
Wednesday, April 8, 2015
Dear MCES Staff:

I thank all the staff for helping to guide me on a much better path. This path has a future to it. The nurses, psych techs, and group leaders have given me tools to move onwards with my life outside this facility. From coping skills to defining more core issue(s), I have learned a lot. I appreciate the staff members who took the time to either just listen or do more.

Despite coming here came from a bad experience, a positive outcome is on the horizon. These skills learned, I plan to pass down and help others [as] best I can. But I really appreciate the support from here: staff and peers alike. So thank you, MCES staff.

Sincerely,

R. H.
---
Join The MCES Team
Wednesday, April 1, 2015
MCES is looking to fill the following positions. Come be part of the MCES team.
Part-Time Evening and Weekend Psychiatric Techs
Qualifications: Bachelor's degree in an area of Human Services (Psychology, Sociology, Counseling, Criminal Justice, etc.) from an accredited college or university plus a minimum of 1 year of mental health direct care experience OR an Associate's Degree in an area of Human Services with twelve (12) semester Behavioral Health college credit hours plus two years of mental health direct care experience in the field; OR a High school diploma or equivalency plus twelve (12) semester Behavioral Health college credit hours plus three years of mental health direct care experience in the field or any combination of experience, education or training that would provide the level of knowledge, skill, and ability required. Other experience or education may be required by the credentialing body where appropriate.
Part-Time Environmental Services
Environmental Services Qualifications: High school diploma or equivalency (GED) and some related experience or any combination of experience, education, or training that would provide the level of knowledge, skill, and ability required.
Part-Time Ambulance Transport
Ambulance Qualifications: High school diploma or equivalency (GED) and a minimum of (1) one year of emergency or transport experience required. Successful applicants must have the ability to properly use the Montgomery County Telecommunication System.
For immediate consideration for any of the positions, please submit a resume to Sharon Bieber. Click here to email Sharon.
MCES is an EO Employer M/F/VETERAN/DISABLED
---
MCES Shares Its Expertise At Trainings
Tuesday, March 31, 2015
On March 18, two very unique trainings were held at different locations in Montgomery County, but both trainings had one thing in common: they were each facilitated by an authoritative, veteran MCES staff member, lending their voice and experience to pressing mental health issues.
Inside a salmon-colored building in Bridgeport, MCES's Director of Development and Suicide Prevention Tony Salvatore gave a three-hour presentation on suicide prevention. The presentation was part of Montgomery County's Foundations Series Trainings, designed to inform and educate varying populations on issues relating to behavioral health. Tony's presentation was preceded by an introduction by Anna Trout from the Department of Behavioral Health & Developmental Disabilities, who shared some of the 2015 goals of the Montgomery County Suicide Prevention Taskforce and offered information about other trainings, such as CALM, QPR and ASIST.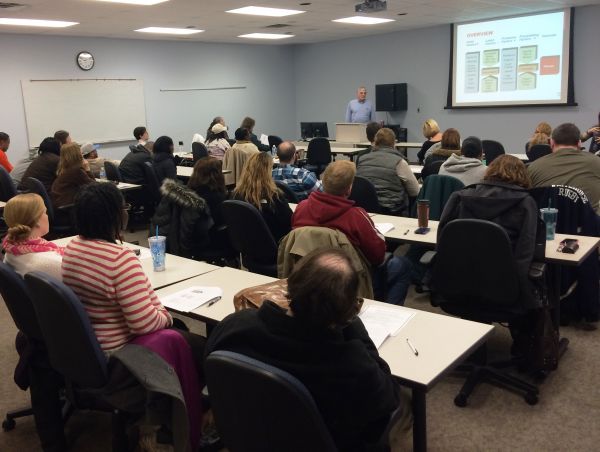 Tony's informative presentation, "Suicide Prevention 101" opened the door to conversation and education around a topic that is still stigmatized and, as a result, seldom discussed. Present were individuals from the community, mental health providers, criminal justice personnel and family members, all of whom were eager to learn more and explore their role in suicide prevention.
Tony spoke about the rise in suicides in Montgomery County, from 62 in 2005 and increasing steadily to 126 in 2011, the most recent statistically-available year, challenged pervasive myths about the relationship between suicide and mental illness, explored factors that can contribute to attempts and completed suicides, and discussed prevention strategies. Approximately 25 individuals were present and, according to event coordinator Peggy Maccolini, this was the "first time that suicide prevention has been explored in the Foundations Series."
Back at MCES, nearly thirty law enforcement officers from all across the county and beyond gathered in the Board Room to attend a, eight-hour training facilitated by MCES's Crisis Intervention Specialist trainer Michelle Monzo called "Surviving Your Shift, and Your Career: What Every Officer Needs to Know About Life on, off, and after the Job."
While the much-lauded CIS training Michelle provides to law enforcement is focused on officers' interactions with individuals who may be in crisis and/or experiencing a psychiatric emergency, "Surviving Your Shift, and Your Career" is designed to focus on the mental health of the officers themselves. The intense situations police officers experience and the profound impact those experiences can have on officers' mental health are often at odds with the machismo and "always-in-control" culture of law enforcement, frequently placing officers in perilous circumstances when it comes to their emotional well-being. Michelle's exceptional understanding of what police officers go through, in the course of their day-to-day routines as well as in high-stress situations made for an engaging and thought-provoking training, which discussed options for officers who are struggling and the barriers to accessing those options.
---
MCES Partners With Harcum College
Tuesday, March 31, 2015
MCES's Allied Therapy Department is celebrating the third year of its partnership with Harcum College's Occupational Therapy program. Since 2012, Harcum has been sending Occupational Therapy students to MCES for fieldwork experience as part of their Associate Degree program.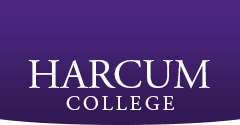 According to MCES's Allied Therapy Director Jesse Celestin, MSW, CCDP-P, who supervises the OT students along with an OT-A supervisor from Harcum, there have been 28 Level One OT students who have come through MCES for fieldwork experience. Level One students come to MCES once a week for a four-week field placement. For many Level One students, MCES is their very first fieldwork assignment and their first experience with populations dealing with mental health and/or drug and alcohol issues.
Following their orientation to the inpatient unit, Level One students observe groups, interview a client, and create an individualized Occupational Therapy Plan, containing short and long-term goals, for that patient. As a culminating activity in the fourth week of their placement, Level One students facilitate an Occupational Therapy-based group.
With the overriding sentiment of Level One students being that they wanted more time at MCES, Jesse pursued further collaboration with Harcum. Recently, Harcum secured funding for an OT-A supervisor to work with Level Two students at MCES. Level Two students are at MCES for eight weeks, five days a week, and regularly facilitate Occupational Therapy-based groups, engage with patients one-on-one for OT sessions, and conduct assessments relating to stress management and leisure activities.
"I really enjoy the opportunity to offer OT-based services to clients," said Jesse. "The students help patients with their ADLs (Activities of Daily Living), budgeting, leisure skills, improving socialization, offering groups and individualized interventions to the people we serve." Jesse said she hopes to reach out to other colleges and universities who have music, art, speech and other therapy programs to bring interested students to MCES for field placements.
---
Doc Gibbs Returns to MCES For Great Performance
Thursday, March 12, 2015
MCES's involvement in live performance began somewhat informally back in 2013. MCES had just joined up with Art-Reach, (a Philadelphia-based non-profit dedicated to increasing accessibility to the arts) to explore the idea of bringing performing artists to MCES. After the initial meeting, Art-Reach contacted MCES to tell us that the E. Rhodes and Leona B. Carpenter Foundation had given them a small grant to be used specifically for an in-facility concert, and would MCES like to be the beneficiaries of that free concert? Of course, we jumped at the opportunity and in April 2013 legendary percussionist Doc Gibbs wowed patients and staff with an hour-long concert, complete with dance accompaniment.
This live performance event spurred a commitment to the arts by MCES, regularly securing performing artists to come to MCES to engage, entertain, and educate. In those early days, money to pay for the concerts came exclusively from the Patient Fund. However, a couple years later, the MCES Inpatient Concert Series is fully grant-funded by the Clayman Family Foundation and by the E. Rhodes and Leona B. Carpenter Foundation. Since then, MCES has seen an impressive array of performances, including a 44-piece concert band playing at twilight in the courtyard, a nationally-known singer-songwriter who traveled from his home in New Hampshire to play in our cafeteria, and fifty chorale singers bringing cheer and warmth the week before Christmas.
What Doc Gibbs had to offer our patients and staff, through his talent and his personal connection, was indeed special, and we knew we wanted him back. Doc returned to MCES on February 16 with dancer and instructor Cachet Ivey. He brought along with him percussive instruments from around the globe and had patients performing with him and with each other. What, to the casual observer, looked like a simple box or a George Foreman grill, Doc Gibbs was able to turn into expressive, tuneful instruments that had people up and moving to Doc's rhythms and Cachet Ivey's infectious moves.
Doc Gibbs has performed with Erykah Badu, Wyclef Jean, Grover Washington, Jr. and many others. He was also the bandleader on the "Emeril, Live!" show from 1997-2007.
On March 24, MCES will welcome another Carpenter Foundation-funded Art-Reach concert: Brazilian duo "Minas."
---
Documentary Film Highlights MCES's Our Town
Tuesday, February 10, 2015
By Gabriel Nathan
Development Specialist and Our Town Stage Director
Typically, the production of a play is an emotionally and physically taxing endeavor and, when it's all over, there is nothing but a bare theatre and the audience, cast and crew's memories of the experience.
Fortunately for MCES, Our Town will last a lot longer than that, thanks to a film crew headed by award-winning documentary filmmaker Glenn Holsten. In addition to many other projects, Glenn creates short documentary films for the website OC87 Recovery Diaries, which features positive, enriching and engaging stories about mental health recovery. The site was founded by Bud Clayman, whose foundation financed MCES's production of Our Town.
Click here to view the Our Town documentary.
---
MCES Hits The Blogosphere
Tuesday, February 10, 2015
With 40 years of experience in psychiatric emergencies and mental health crises, MCES will be making good use of that knowledge and understanding in a blog. The blog will feature the diverse and skilled voices of MCES staff members writing about a variety of topics related to mental health, wellness, recovery, suicide prevention, and commenting on pertinent issues in the psychiatric community.
MCES's blog will also be a great way to keep connected to the community, and keep the public updated and informed about goings-on within the hospital and the services we provide. MCES's blog can be found from the MCES website homepage and will be updated once a week. Stay on the lookout for valuable information and thoughtful commentary from MCES staff.
---
Inquirer Features MCES Production of "Our Town"
Tuesday, December 2, 2014
MCES's production of "Our Town" was prominently featured in the November 30 Sunday Inquirer. 
Well Being: Mental-health coworkers share lessons from "Our Town"
by Art Carey
The name of our town is West Norriton, 40 degrees north latitude, 75 degrees west longitude. Population: about 16,000, give or take a few hundred. It's just across the border from Norristown, the Montgomery County seat. Down there, at the bottom of that sloping cornfield, is the hospital for those with urgent psychiatric troubles. Goes by the name of Montgomery County Emergency Service, MCES for short.
Our story begins last spring with a team-building staff retreat. Leading it is Gabriel Nathan, an enthusiastic young man with a theatrical background. He serves as a development specialist at MCES.
"Work can become so busy and chaotic that we don't have time to look at each other, to stop and really appreciate each other," he laments to his coworkers.
Click here to read the full story 
---