MCES News
Merion Concert Band Plays MCES
Tuesday, July 15, 2014
Music poured out from the MCES courtyard  on July 10 as 44-four members of the Merion Concert Band played a special twilight concert for patients and staff.
From the moment that the band sounded the energetic first notes of John Williams' theme from the film "Cowboys" to the closing, stirring sounds of "Stars and Stripes Forever," everyone present was engaged and attentive.  During some of the songs, particularly the Cuban song "Malaguena," some staff and patients danced together to the infectious rhythm.
Click here to see the band perform
This is the first time that the Merion Concert Band, founded in 1977, has played at MCES, or any other similar facility.  The band performs year round, rehearsing at local elementary schools and performing at Harriton High School and the Church of the Redeemer in Bryn Mawr.  In addition, the band has a summer concert series, mainly in outdoor venues.
Patients from MCES's inpatient hospital, residents at MCES's Crisis Residential Program, and staff members from both were attended the outdoor concert underneath a beautiful sky that, thankfully, held no threatening rain clouds.
MCES Development Specialist Gabriel Nathan, who arranged and coordinated the event, said, "I couldn't be happier with the way the concert turned out.  This was a unique opportunity to have a group of this caliber and size come perform for our inpatient population."
This concert, the largest single creative arts event at MCES since its inception forty years ago, was made possible by a generous grant from the Clayman Family Foundation.  The purpose of the grant is to support live creative and performing arts events at MCES.
---
MCES Begins Community RN Program
Tuesday, July 1, 2014
Preparations at MCES are underway for the launch of a new program that will send psychiatric RNs into the community to follow up with recently discharged patients. 

The "Community Continuity-of-Care RN Program" will begin this month and feature eight MCES registered nurses who will follow 50 patients after their discharge from inpatient treatment. Patients will be selected to participate in the program according to an established criteria that focuses on recent re-admissions, diagnoses, housing situation, family support and other factors. Participating individuals must have been readmitted to MCES within 30 to 60 days of discharge at some point within the last twelve months.
---
Community Support Program Meeting At MCES
Friday, June 20, 2014
The rain came, and went, came again, and went again. The sun appeared, and then hid behind the clouds—several times, toying with everybody's emotions on June 19. But, in spite of the fickle weather, the dedicated members of the Montgomery County Community Support Program came out in full force to their monthly meeting, held outside at MCES, under a much-needed tent.
Linton's Catering fired up the grill and there were hot dogs, hamburgers and veggie burgers with all the fixings, cold salads and watermelon for all to enjoy as CSP members discussed important issues relating to advocacy, their recent retreat, and budgetary issues.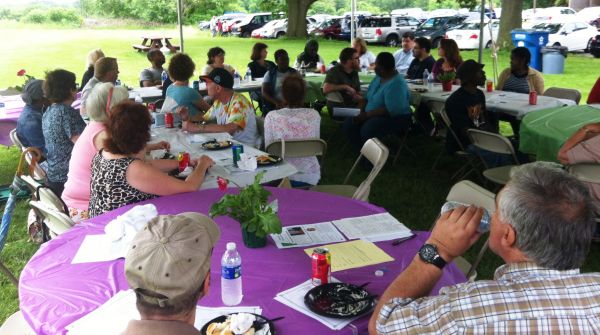 Meeting attendees enjoy the good food.
---
"Art On The Unit" Receives Funding
Saturday, June 28, 2014
MCES is proud to announce that, due to the generosity of two private foundations, the outstanding artistic work of one of its psych techs may continue on the walls of MCES.
As you have no doubt seen from the wisteria that adorns the columns on Center, the lovely mural in the piano room, and the floral accents to the cafeteria, the art has been instrumental in helping to make the interior environment of MCES more aesthetically pleasing.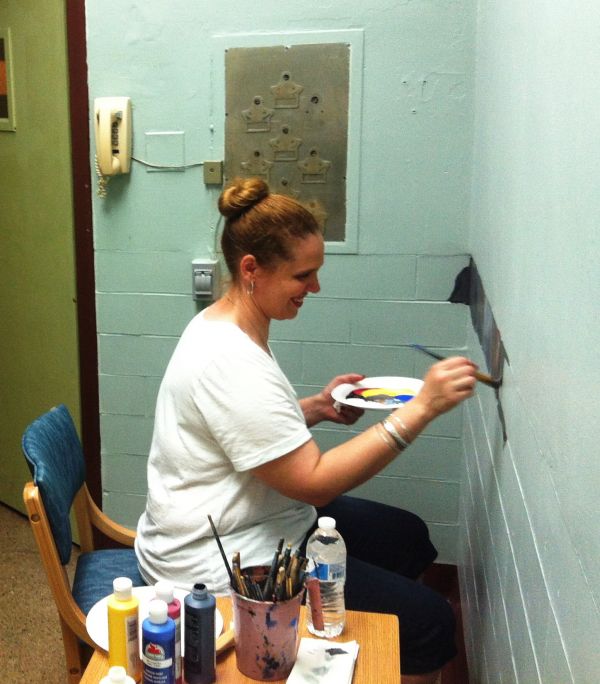 ---
MCES Part Of Recovery Fair
Monday, June 23, 2014
After a week-long rain delay, the sun was shining bright (and MCES Development Specialist Gabriel Nathan had the sunburn to prove it) at Central MH-MR's Recovery Fair on Friday, June 20.
Provider agencies from all over Montgomery County were on-hand to talk to residents about their services, hand out information, and enjoy each other's company in a fun, social atmosphere. Amidst the tables of information were "fortune tellers" and a variety of fair-type activities, such as balloon animals expertly crafted by members of Central's Outpatient division and a ring toss.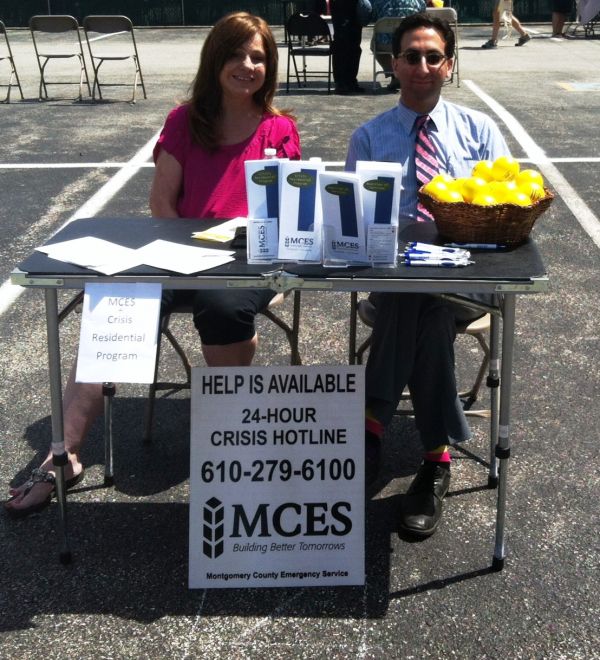 ---
Solo Flute Concert Entertains And Enriches
Monday, June 30, 2014
After the overwhelmingly positive feedback from patients and staff following Dr. Susanna Loewy's first solo flute performance at MCES in February, it was all but a foregone conclusion that she would be invited back. Loewy, a Philadelphia-based artist, accepted the invitation and returned to MCES to play contemporary and classical pieces from a diverse variety of composers, though she insists most of them were French. The concert drew at least 40 staff members and patients.
Dr. Loewy has performed with the Philadelphia Orchestra, Peter Nero and the Philly Pops, and the Pennsylvania Ballet. She is Assistant Professor of Flute at Kutztown University, a teaching artist with the Philadelphia Orchestra, and is the founder/curator of the Pikes Falls Chamber Music Festival in Jamaica, Vermont.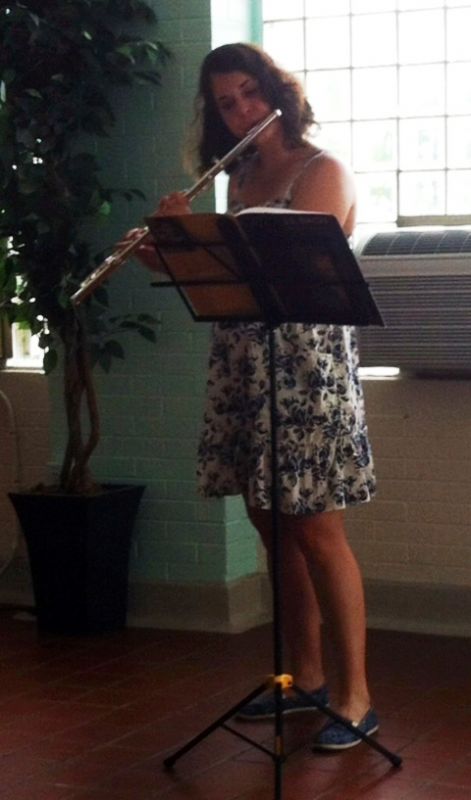 Susanna Loewy performs at MCES.
---
Hope Is In Bloom At MCES
Wednesday, June 25, 2014
Everywhere you look, whether you are at CRP or outside MCES's inpatient hospital, there is something green—or red, or purple, for that matter—to catch your eye.
Staff members from MCES and CRP collaborated with CRP residents as well as volunteers from Boy Scout Troop #551 in multiple horticultural projects to enhance the experience aesthetics of both facilities.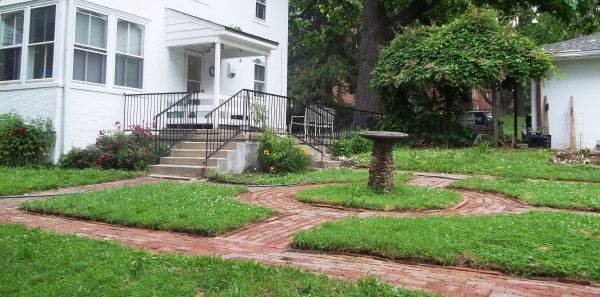 The new walkway at CRP.
---
Crisis Education Specialist Michelle Monzo Honored
Friday, May 30, 2014
Michelle Monzo, who leads MCES's crisis eduation training, was recently honored by Montgomery County District Attorney Risa Vetri Ferman for Michelle's role in saving a man who was threatening to jump from a third-floor roof in Royersord.Michelle along with police officers from Royersford, Lower Providence and Upper Providence talked with the man for two hours before subduing him and taking him off the roof.
"The patient and professional actions were undoubtedly instrumental in saving the life of this man in crisis," Ferman said during a ceremony at the Montgomery County Courthouse.
Click here to read the Times Herald story on the ceremony
---