Signs Offer Help To Those In Need
Wednesday, July 18, 2012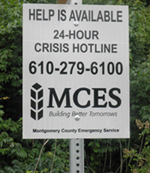 MCES worked with State Senator Daylin Leach and PennDOT to install six signs near the Dannehower Bridge and four on the DeKalb Street Bridge advertising the 24-hour MCES Crisis Line.
Over the years, the bridges have attracted individuals in crisis. The signs remind individuals that someone is available around the clock to talk with them.
"We appreciate the help of Senator Leach and PennDOT in making these signs a reality," said Dr. Rocio Nell, MCES Chief Executive Officer. "If we help even one person, they will have been worth the effort."