PA Senator Bob Mensch Visits MCES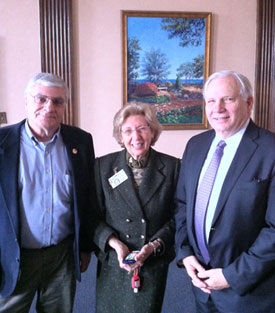 On February 1, State Senator Bob Mensch came to MCES and met with Rocio Nell, MD, CEO/Medical Director, other members of MCES's administrative staff, and MCES Board member, Cliff Rogers EdD, Superintendent of the Perkiomen Valley School District, for a wide-ranging discussion of mental health needs and services.
Topics given particular attention included MCES's increasing crisis contacts with elders and Veterans, the impact of state hospital downsizing and state budget cuts to behavioral health programs on aftercare for individuals with serious mental illness, and MCES's work with police, the mental health court, and the criminal justice system in general.
Senator Mensch visit concluded with tours of MCES's Crisis Department and our inpatient acute psychiatric care unit, and his request that MCES follow-up his visit by giving him some recommendations for doable changes in the community mental health system.
"It was a pleasure to talk with Senator Mensch," Dr. Nell said. "He showed a sincere interest in helping those in times of crisis and I thank him for that."
Senator Mensch represents the 24th Senatorial District that includes part of western Montgomery County and parts of Berks, Bucks, Lehigh, and Northampton counties. Senator Mensch chairs the Senate Committee on Aging and Youth and is vice chair of the Committee on Public Health and Welfare.